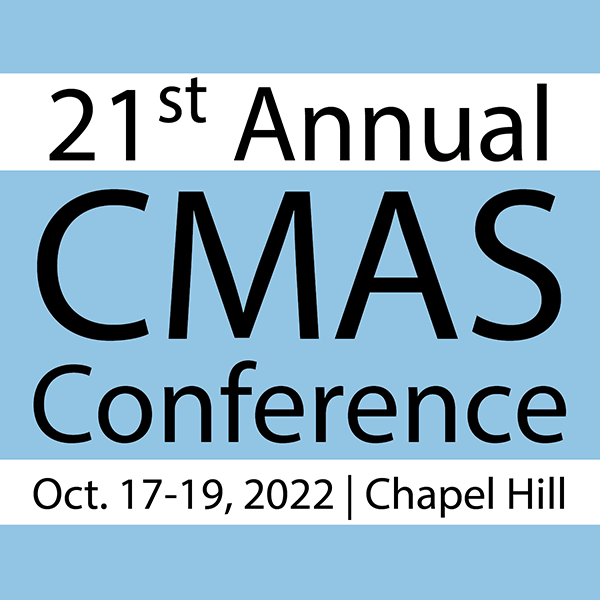 Call for Abstracts
The 21st Annual CMAS Conference will be held in-person from October 17-19, 2022. The CMAS Center is now accepting abstracts and registrations. We are excited to have the conference back in-person this year and hosted by the UNC Institute for the Environment. Members of the CMAS community who wish to present at the conference need to register and submit their presentation title, brief description, and preferred session by Monday, July 18, 2022, to be considered.
Submissions will be sent to the respective session chairs for review. Presenters will be notified of their acceptance status on or after August 22, 2022. We will make every effort to include all reasonable submissions. If the presentation is accepted, the presenter will be asked to submit an extended abstract for publication on our website.
We will hold poster sessions on both Day 1 and 2.
The 21st CMAS conference offers the following sessions, in addition to Keynote talks on emerging topics.
Air Quality, Climate and Energy
Cloud Computing
COVID-19 and Impacts on Emissions and Air Quality
Emissions Inventories, Models, and Processes
Machine Learning and Reduced Form Model Developments and Applications
Model Development
Modeling to Support Exposure and Health Studies and Community-scale Applications
Multi-scale Model Applications and Evaluations
Regulatory Modeling and SIP Applications
Remote Sensing/Sensor Technology and Measurements Studies
Wildfire Emissions and Air Quality
Air Quality Studies that Focus on Environmental Justice
We may combine sessions depending on the number of submitted papers in each session.
For more information on the sessions for this conference, please visit the 2022 CMAS Call for Papers web page.
The reduced Early Bird registration fees for the 21st CMAS conference are $450 (Regular), $200 (Current students) by September 17, 2022. Late registration fees are $500 (Regular) and $250 (Current students).
Even if you are not planning to present at the conference, you are encouraged to register at your earliest convenience to take advantage of our Early Bird rate ($450). Register now!
CMAS Users,

After the data breach at the end of 2021, CMAS updated everyone's contact preferences to ensure that no one received any emails from CMAS. As a result, if you want to receive general announcements from CMAS about model releases, upcoming conferences and trainings, and upcoming webinars, you'll need to opt back in. You can do this by following these steps:

* Log in with your email and password
* In the Top Menu, go to User Details > Edit Contact Preferences
* Click the "Add Me" button.

If you see "Remove Me", then you're already set to receive our general announcements.